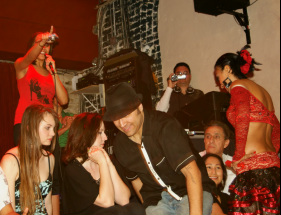 Elliott and I are often asked about salsa music for beginners – and it's a good question since one of the hardest things for beginners to do (other than develop "Latin hips," of course) is to find Salsa music beginners can practice to. To make matters worse, it's even harder to find slow Salsa songs as dancers' progress in skill level.

As well, many new Salsa students aren't Spanish speaking, which makes finding good Salsa music a challenging task. Hopefully, with the suggestions below you'll soon be feeling the Latin rhythms and executing the smooth movements with flair.


Suggestions for Salsa Music for Beginners


Our Salsa class song: Joe Arroyo's "Yamulemau"



The song we use most in our Salsa classes is Joe Arroyo's Yamulemau. Not only is it fun and upbeat, it's one of the few songs no one seems to get tired of. Below you'll find a good version of it, though we also like a version that is overlaid with counting because the counting helps our students stay on beat!


Another Fun Salsa Song for Beginners to Dance To – La 33's "La Pantera Mambo"



If you have your basic steps down and are ready to start practicing patterns, you probably want to mix things up and try something new. Many people enjoy a Salsa song with familiar tune because it is easier to hear – especially for beginners. See if you recognize this one.


A Classic Salsa Song for Beginners to Dance To -- Cuco Valoy's "Juliana"



This last song is a classic Salsa song that works well for beginners because of the slow, even tempo. You may have to listen to it a few times to hear the beat but this is common when first exposed to Salsa music. Keep listening and have faith that you will eventually hear it with time.


Tags: Salsa music for beginners, Salsa songs to dance to, salsa music, slow Salsa songs, slow Salsa music