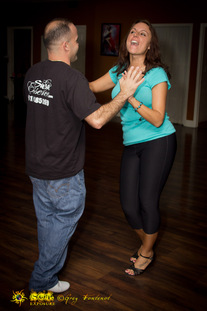 Lots of people want to learn to dance Salsa, but let the dream go once they realize that learning to do it well involves work. Others, however, take one step on the dance floor and find out that, as true Salsa lovers say, they have Salsa "in their blood." Having it "in your blood," however, doesn't necessarily mean you do it well. If you want to look great dancing with everyone on the dance floor fast, then you need to know the secrets.

1. Practice the Basic Step until it is Second Nature

Salsa requires us to do two things at once – move both our feet and our arms. The problem is that our brains can only think about one thing at a time. As a result, it is normal to struggle until your basic footwork is automatic. Once it is, you can focus on the proper placement of your hands, arms and body. The key, of course, is doing the basic step over and over. Because advanced moves can happen in any direction, stability is important, and it's best for women to practice in place with their body weight firmly over their feet.

2. Keep your Upper Body Stiff and your Lower Body Loose

The biggest mistake both men and women alike make is loosely swinging their arms back and forth or side to side. While it feels good, and may even look good, loose arms make it virtually impossible to lead or follow. To dance well together, both the leader and follower must move as one unit and it just won't happen with spaghetti arms.

3. Practice with Someone Who Knows How to Dance

One of the biggest reasons for slow progress is dancing with other beginners. While group classes are great for practice, generally speaking, neither partner knows what to do so it never feels quite right.

In contrast, when a woman follows well, she holds her body stiffly in the correct places. A leader feels this and quickly learns how to properly manipulate her. The same holds true for a follower. A good leader can instruct a follower to adjust her body position until she's a dream to dance with.

Overall, proper technique is not difficult to learn, but it requires specific instruction. Once you master it, however, your dancing abilities will improve phenomenally.