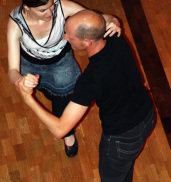 Given how hard it is to meet people in the internet age, not to mention the popularity of Dancing with the Stars, it is no wonder that partner dancing is making a comeback. Not only is it social, but it is fun and provides great exercise as well.
For the new dancer wanting to learn to dance for the first time, Salsa is a great choice. The most popular of the partner dances, it is very welcoming to beginning dancers with plenty of resources available as well.
Most importantly, unlike most other dance styles, it is easy to find Salsa venues to practice your new skills. There is nothing worse than investing time and money on your quest to learn to dance only to be stuck dancing in a dance studio. With Salsa, once you are proficient, you'll be showing off your skills in one of the many Salsa clubs worldwide in no time.
What You Need to Know to Learn to Dance:1. Free Salsa Classes at Salsa Clubs
Most Salsa clubs offer free Salsa dance classes for people who have never danced before, and taking a free class is a good way to experience the environment. Don't expect to learn to dance after one lesson, however. Like everything, it takes practice.
Many cities have a Salsa website with resources to help you learn to dance in your local area. If you can't locate one, contact a dance studio. They will be happy to guide you in the right direction.
2. Affordable Group Classes
While many people fall in love with Salsa at a free class in the Salsa club, when people are really ready to learn to dance, most take group studio classes. Steer clear of ballroom studios asking for a huge, upfront investment of time and money. Beginning group Salsa classes are normally "drop-in," meaning you show up whenever you want to, and cost less than $10 per class.
When you go to class, you don't have to worry about not knowing how to do the steps. Everyone will have little to no experience. As long as it is a "drop-in" class and not a progressive class, meaning the class builds on a move over a series of weeks, the class will start with the basic step. With a little practice, you'll have the basics down within a few weeks.
3. Private Classes
Some people don't want to learn with a group, and if that is the case, private classes are available as well. Anywhere between $50 and $80 per hour, they are significantly more expensive. The benefit, however, is that you won't acquire bad habits that you will have to unlearn later. Most students take private lessons at some point, and overall, the best way to learn is through a combination of private and group lessons.
4. No Partner Needed
Another big benefit of learning Salsa is that you don't need to bring a partner. Expect the ratios of men to women to be uneven, swinging in either direction on any given day. To combat this, partners rotate to ensure everyone practices.
5. What to Wear
Most people wear casual street clothes such as shorts, jeans or a casual dress. The key is to wear cool clothing since you'll be moving around a lot. Also, your shoes should have a leather or hard plastic bottom so you may turn easily on a hard surface. Sneakers stick and the gripping action may bother your knees. As you improve, you'll want to invest in dance shoes since the suede bottoms allow you to maneuver and execute turns with greater precision.
6. Salsa Steps
The steps in Salsa start with both feet together. Men follow the pattern below and begin by moving their left foot forward while women start with the second half and move backwards onto their right. This allows the couple to move together. With the holds, the basic step encompasses eight beats. There are many good videos on YouTube that will help you master this.
The pattern is as follows:
Step forward on your left foot

Step in place with your right foot
Bring your left foot back so your feet are together again
Hold one count
Step backwards on your right foot
Step in place with your left foot
Bring your right foot back so your feet are together again
Hold one count
Overall, when you want to learn to dance Salsa, the key is practice, and through a combination of classes and practice, you'll soon be a sought-after dance partner out on the dance floor.